Objective 4: Financial management
Our business strategies
Meet financial return targets and grow shareholder value.
Expand DHA's investment offering and seek other funding alternatives.
Our performance against key indicators
| KPI | Target | Achievement | Outcome |
| --- | --- | --- | --- |
| Total shareholder return | 8.0% | 7.9% | |
| Dividend payout ratio | 60.0% | 60.0% | |
| Dividend yield | 2.0% | 2.1% | |
| Return on equity | 5.8% | 6.3% | |
| Net profit after tax | $83.5m | $91.1m | |
| Return on capital employed | 7.6% | 8.4% | |
| Inventory (SLB) turnover (years) | <1.7 | 1.5 | |
| Gearing ratio | 34.5% | 34.8% | |
| Interest cover | 5.3 | 5.8 | |
| Liquidity ratio1 | 1.3 | 4.0 | |
| Current ratio | 2.7 | 3.1 | |
1 Excludes current borrowings as we roll borrowing terms on maturity and do not consider this a risk.
Our major outcomes

Achieved savings of $6.7 million on operational expenses due to prudent management of costs and a focus on operational efficiency.

Achieved earnings before interest and tax (EBIT) of $140.8 million compared with a budget of $132.1 million.

Achieved a $54.6 million annual dividend for the year based on 60% of net profit after tax (NPAT) compared with a budgeted dividend of $50.1 million.

Generated revenue of $498.0 million from the SLB program compared with a budget of $412.2 million.

Achieved a net margin of 11.7% for the SLB program compared with a budget of 7%.

Generated approximately 13,500 new prospective investor lead registrations from the Look forward SLB marketing campaign launched in mid-April 2015.

Diversified the SLB investor base, achieving 70 settlements from self-managed superannuation fund (SMSF) investors compared with 46 settlements in 2013–14.

Generated revenue of $97.4 million from development land sales and $29.7 million from development property sales.

Achieved a strong closing balance sheet with net assets of $1.5 billion based on the cost method.
Overview
We are committed to achieving a sustainable long-term financial structure and paying annual dividends to the Australian Government. In doing so, we continue to manage a range of pressures, such as finding efficiencies and savings, while maintaining high standards of service delivery and customer satisfaction.
Our financial statements are presented in Part 4: Financial statements. The Australian National Audit Office (ANAO) issued an unqualified audit opinion for these statements on 13 August 2015.
Our operating results
Overview
Our financial results for 2014–15 were strong against budget. NPAT was $91.1 million compared to a budget of $83.5 million. EBIT was $140.8 million against a budget of $132.1 million. Total operating and personnel expenditure was $6.7 million below budget.
SLB program
The SLB program generated $498.0 million in revenue against a budget of $412.2 million. This included $37.6 million in revenue generated from the sale of apartments provisioned for single ADF members.
The budget assumed a net margin of 7%, while actual net margins for the reporting period finished at 11.7%. This was primarily due to the sale of properties in Sydney and Darwin, and a greater than usual proportion of higher margin properties sold. This resulted in an additional $29.5 million in revenue.
Surplus property sales
We sold and settled 71 properties we owned that were surplus to requirements. This activity resulted in a net margin of $21.7 million, which is in line with budget. We generated revenues of $29.7 million from the sale of 44 apartments at our Crimson Hill development in Lindfield, Sydney (NSW).
Surplus land sales
Revenue generated from the sale of surplus development land was below budget for the period by $27.1 million. This was largely due to delayed settlement of lots at Muirhead, Darwin (NT) and Kellyville, Sydney (NSW).
Cash balance
Our cash balance at 30 June 2015 was $263.5 million, $127.3 million higher than budget. The following contributed to this result:
Higher than budgeted cash inflows from the SLB program ($86.8 million above budget).
Advanced payments from the DoD in relation to existing annuities ($61.0 million) and progress payments against upgrade projects ($43.0 million).
Increased development land acquisition ($123.1 million against a budget of $50.0 million) due to surplus DoD land and attractive fit-for-use major sites available in key provisioning areas.
Lower retail spending on land and completed dwellings ($22.4 million below budget).
Delayed expenditure on annuity upgrade projects ($22.4 million below budget).
Refer to Appendix E for our five-year financial summary.
Our return to Shareholders
In accordance with guidelines for GBEs, we make an annual dividend payment to the Australian Government who are owners of DHA. Based on 60% NPAT, the final dividend payment will be $54.6 million, $4.5 million above budget.
Our credit rating
Standard & Poor's credit rating has assigned us a long-term issuer headline rating of AA+. This credit rating assists us when negotiating financial transactions.
How we manage our assets
As at 30 June 2015, we managed 18,872 properties across Australia worth approximately $10 billion. Refer to Appendix A for a breakdown by ownership and location, and Appendix E for our five-year financial summary.
We own 3,573 properties or 19% of the total portfolio. Of this, we hold 2,352 properties or 12% as long-term investment stock. The balance is inventory properties identified for sale through the SLB program.
Our investment portfolio comprises properties in strategic locations offering operational flexibility to meet the DoD's housing needs. The average age of the properties is 14.9 years with a rental yield of 4.7%. During the reporting period, we transferred 173 properties out of the investment portfolio and added 140 properties to the portfolio.
In accordance with relevant accounting standards, we hold investment properties at the lower of cost and recoverable value and inventory properties at the lower of cost and net realisable value.
We engage licensed property valuers to value our portfolio of inventory properties, investment properties, leased properties and land holdings on an annual basis. Investment and inventory properties are carried in the financial statements at $1.5 billion at 30 June 2015. The market value of these properties is $2.8 billion.
As at 30 June 2015, private investors owned more than two-thirds or 69% of our total portfolio. In line with our lease agreements, we advise lessors annually of the weekly rental appraisal for their property and adjust their rent accordingly.
Refer to Figure 7 for a breakdown of our property assets by type.
Figure 7: Property portfolio by asset type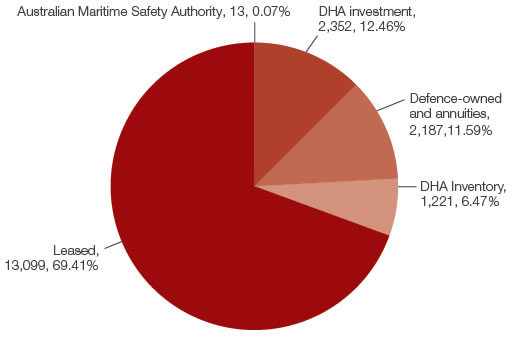 How we manage our capital
We employ total capital of almost $2.4 billion, which is funded through $1.5 billion in equity and $509.6 million in debt. The Australian Government, as our owner, contributed equity of $404.0 million. Debt is sourced through a loan arrangement with the Department of Finance and the DoD.
We do not have a commercial overdraft facility or access to re-drawable loan facilities. There were no new borrowings during the reporting period and, as at 30 June 2015, gearing was 34.8% and the financial results for the year provided interest cover at 5.8 times.
How we manage taxation
We fully comply with the Australian Government's income tax, fringe benefits tax, and goods and services tax legislation. We are also required to comply with its competitive neutrality policy ensuring that we cannot gain a commercial advantage resulting from tax exemptions flowing from our status as a GBE. In accordance with this policy, we make tax equivalent payments in respect of state taxes that would apply if the exemption provision was not in the DHA Act.
How we expand our SLB offering
In 2014–15, we launched a new sales service exclusive to existing lessors. Under the terms of our lease, a lessor can sell his or her DHA-managed investment property at any time; however, it must be sold with the lease in place (i.e. to another investor).
Traditionally, lessors have had to source and engage a real estate agent to sell their property without our assistance. During the reporting period, we provided lessors access to use our panel of agents around the country. This has provided mutually beneficial outcomes as agents are educated about DHA and our lease terms and, in general, properties have been sold to new investors quickly.
How we promoted our SLB program
As in previous years, prospective investor demand for our SLB program outweighed supply during 2014–15. Nevertheless, we continued to undertake a number of activities to increase awareness and recognition among new audiences, to ensure we can achieve future increased revenue targets.
We undertook the following initiatives during the reporting period:
Hosted investment seminars throughout Australia to provide prospective investors with general information about our SLB program.
Launched a seminar series with AMP, focussed on how to buy a DHA investment property using a SMSF.
Attended conferences with peak bodies of the SMSF industry, financial planners and mortgage brokers to increase knowledge of the SLB program among these audiences.
Attended on-base events with Defence Health and the Australian Defence Credit Union to promote the SLB program to ADF members.
Met with multiple financial institutions to build awareness of the SLB program and its risk profile.
Funding alternatives
We have not undertaken any additional fund activity through our subsidiary, DHA IML, since 2013. Refer to Part 3 of this report for more information about DHA IML. We must receive permission from our Shareholder Ministers before we can pursue further activity. We continue to liaise with financial institutions who have expressed interest in bulk acquisition of our properties under leaseback arrangements.